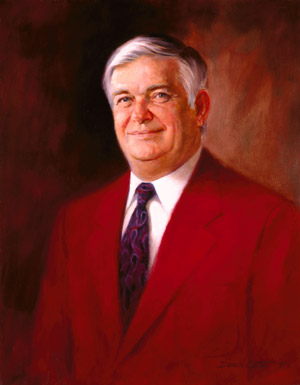 Damon Carter knew he wanted to be an artist since grammar school when a visiting artist drew a classmate of his and he realized such a feat was possible. It set a flame of inspiration to his spirit that has continued throughout his life. He pursued art throughout highschool and college and graduated from the University of Georgia with a BFA degree.
Damon began his career as an illustrator and graphic artist in 1961. Among his numerous honors are two finalist certificates from the prestigious International Cleo Awards. During the last decade, Damon's passion for portraiture and plein air painting has become his prime focus, and he now devotes his energies full time as a fine artist.
Clients and collectors of Damon's work include such notables as Ted Turner of Turner Communications (Time Warner), The Mead Corporation, Kappa Sigma Fraternity International Headquarters,

The Uncle Remus Museum, Standard Office Systems, and a host of private clients and collectors throughout the U.S. and abroad.

Over the years, Damon has continued to develop his artistic eye from study of the old masters and through private study with other artists, whom he admires. He has studied with such noted artists as Nelson Shanks, David Leffel, Burton Silverman, Richard Whitney, John Howard Sanden, Charles Reid, Jim Schell, and others.
Damon's work has been recognized both locally and nationally. In 1989, he was honored as a finalist in The Artist's Magazine's national portrait contest from a field of over 10,000 entries. He currently serves on the board of directors of the Portrait Society of Atlanta and served as president from 1993 to 1995. He is also a member of the Plein Air Painters of Georgia.

Damon believes a true artist never stops learning, and he constantly studies the works of the old masters in museums, galleries, and his extensive studio library. He says Picasso said it best with this quote: "Art washes away from the soul the dust of everyday life."