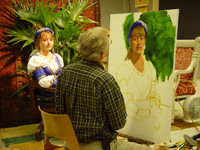 Working in a style he refers to as intensified realism, Marlin Adams' oil paintings display impressionistic color and superb draftmanship. Marlin's subjects include panoramic landscapes, stunning still lifes, and lifelike portraits.

Following in a tradition of many of the old masters, Marlin Adams is also a teacher. As a graduate assistant, Marlin taught at Brigham Young University. He has also served as resident artist at the Square House Museum in

Panhandle, Texas. Currently, Marlin teaches fine art at Gordon College in Barnesville, Georgia.

Marlin Adams is represented by the Altermann & Morris Galleries in Dallas, Houston, Santa Fe, and Hilton Head, South Carolina.

Marlin accepts a limited number of commissions each year. For information on portrait or other commissions, send an email to the address listed below.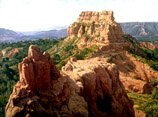 Sign The Guestbook View The Guestbook

Guest book provided by LPage.
Email Marlin Adams at m_adams@gdn.edu
All images are protected by copyright law and may not be reproduced or copied in any manner without written permission from the artist. Image scans are the property of Gandy Gallery and may not be copied or otherwise used without written permission from Gandy Gallery.